For more info about Tokkosho, please see: Tokkosho on Dead or Alive Wiki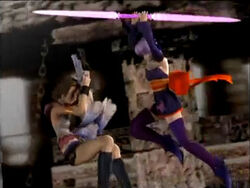 Tokkosho is a purple, double-ended sword imbued with explosive properties that is used by Ayane in Dead Fantasy. It originally belonged to her foster father, Genra, but after his death, Ayane kept it as a memento of him.
Ad blocker interference detected!
Wikia is a free-to-use site that makes money from advertising. We have a modified experience for viewers using ad blockers

Wikia is not accessible if you've made further modifications. Remove the custom ad blocker rule(s) and the page will load as expected.